April
Sculpted by Elke Hutchins
IMSCO Molds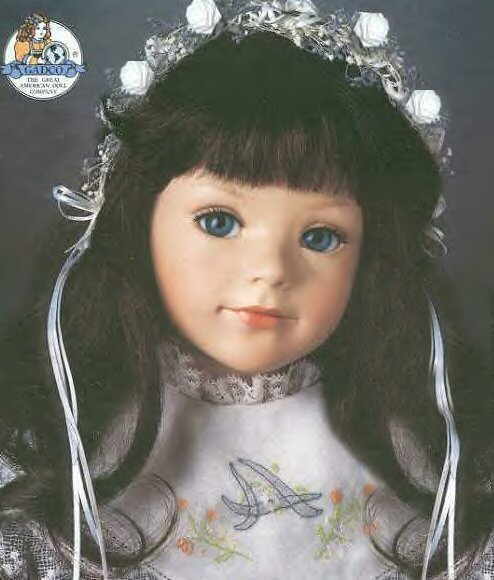 Available:
22-24" Child/ Toddler Series
April Head
Shouldplate
Arms
Legs
.
Soft Fired $30.00
Bisque 60.00
.
Interchangeable Parts:
.
Return Links:
Alphabetical Link
Series Link


IMSCO HEAD MOLD BERNADETTE
THE HEAD MEASURES 13 1/4"
THIS HEAD MAKES A 24" DOLL
IT FITS THE JONES 206 BODY
OR THE 24" DOLL ARTWORKS TJ BODY

12" doll size - All Porcelain Body
April by Elkie Hutchens portrays a sweet young girl with a pensive expression.
The 18 inch doll is on a 5 piece all porcelain body.
The 22 inch doll uses a porcelain shoulderplate, lower arms and legs.
Cloth body pattern included with greenware purchase. MCD408 -
APRIL -
Eye Size: 18 mm
Wig Size: 11/12 inches
Doll Size: 18 inches
MCD410 - APRIL -
Eye Size: 22 mm
Wig Size: 12/13 inches
Doll Size: 22 inches

???wig size: l0", eye size. l8mm???
This original two piece Elke Hutchens mold can be made into a 24" all porcelain doll using Jones Mold #206 or soft body with your pattern, arms and legs.
Markings on the side of the mold are as follows: "April" cIMSCO 1987 E. Hutchens.
April has a beautiful face and she can be either a little girl or a beautiful young lady.
I'm sure you will just love her.