Chivo - Porcelain Goat
(Chee-bo)
Sculpted & Created by Donna RuBert
Doll Artworks Mold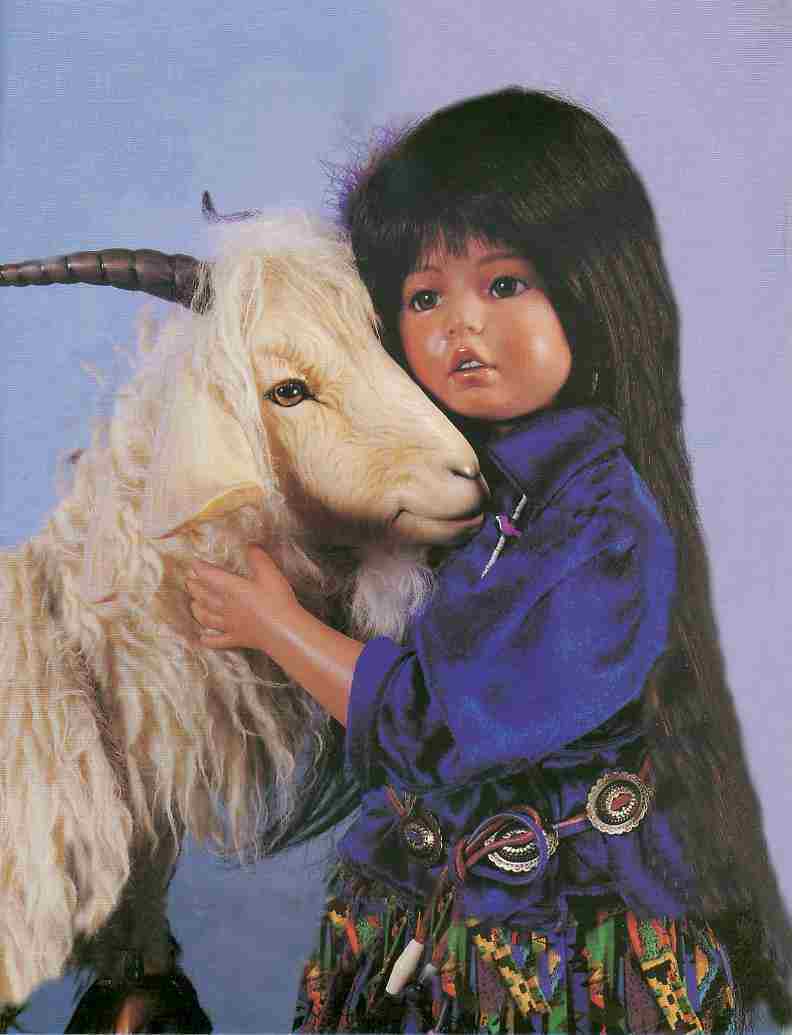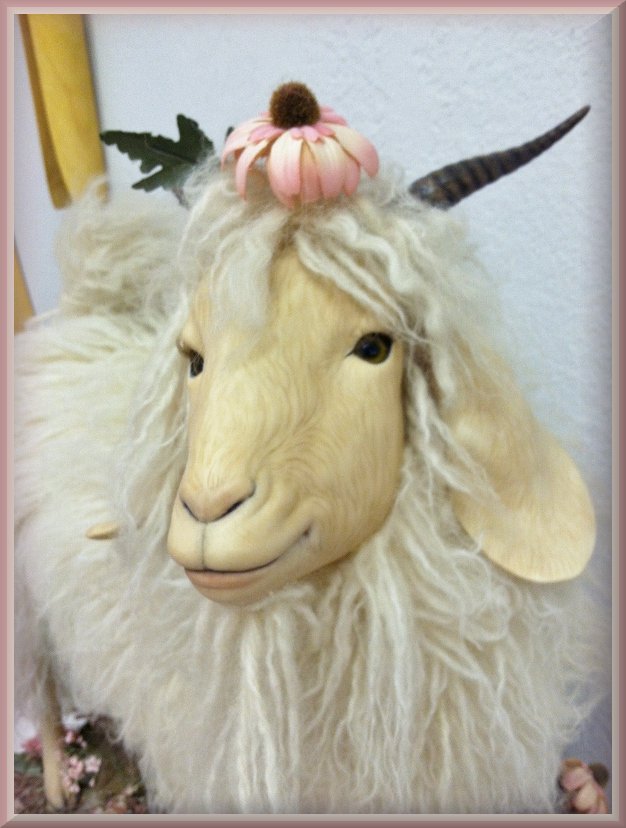 Available in 2 Sizes:
Animal or Miscellaneous Series
Small & Large Porcelain Goat
" Chivo"
.
13" Tall
.
SFGW: $25.00 *
Bisque: 50.00
.
24" Tall
SFGW: $45.00 *
Bisque: 90.00
.
Click here for: Picture of 13" (Whiter) Painted Bisque Parts
Click here for: Pictures of 24" (Darker Painted Bisque Parts
.
Poured in White Slip
.
Return Links:
Alphabetical Link
Series Link
.
* Opened Eye's only come with Starter hole on Both 13" & 24" Chivo the Goat in SFGW
For Fur use: Shag rug, shag fur, or Sheepskin w/ soft backing
We do have both sizes of "Chivo" Eyes available for sale
for 13" & 24" "Chivo"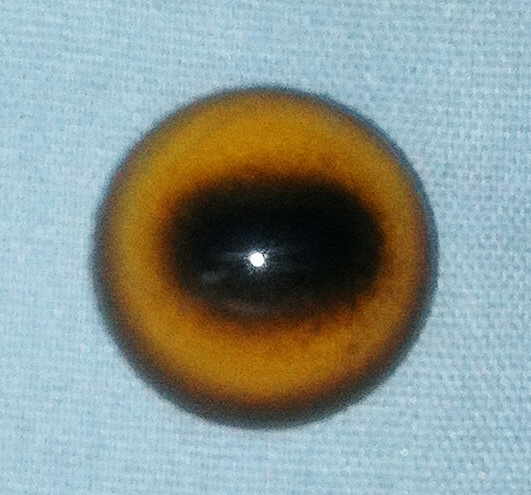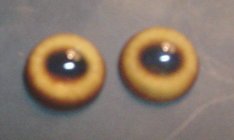 Glass Chivo Goat Eyes
• Pictured above is glass goat eyes for Doll Artworks large 24 inch "Chivo".
• 24" Chivo takes an 18mm eye (Both Pupil and yellow showing)
* If you want more pupil and no yellow showing you would need a larger eye and opening.
• The eyes are half round, and hollow backed.
• Color is light amber
Same but Smaller cyes for 13" Chivo is available for sale.
.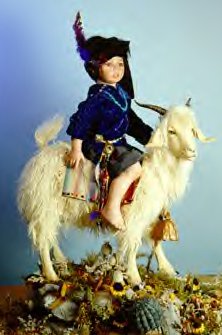 Information about "Chivo"
Body Pattern, Painting Techniques and Assembly Instructions for Chivo
Available ONLY with complete CHIVO doll purchase.
* Price for SFGW reflects prepare and pouring these small molds is very time consuming
"Chivo" is 10 seperate porcelain pieces that pours out of 7 different molds.
.
We do not size the Chivo eyes in SFGW -
"Only starter holes or Customer must paint the eyes"
.
Extra Information for 24" Chivo
.
24" Chivo the Goat Opened Eyes in SFGW only come with Starter hole.
Eye Size: 18" mm
Eye Sizers to use: 20 mm & 22 mm
(Instructions for set in eyes cut eyes open then bevel to 20mm.
Then use the size 22 mm to bevel the corners of the eyes and the wall behind the eyes.
(This extra beveling is necessary because the wall is so close to the eye opening. )
.
Extra Information for 13" Chivo
.
13" Chivo the Goat Opened Eyes in SFGW only come with Starter hole
(extra beveling is necessary because the wall is so close to the eye opening)
.
Pour holes in horns and each of the legs need to be enlarged to accept 12 gauge wire
8' of 12 gauge wire makes up the skelton of "Chivo"
Pour hole in ears need to be large enough to accept compound and hooks for stringing.
.
Instructions & diagram for painted is supplied with porcelain goat purchase.
.
CHINA PAINTS
China Paints - Virginia LaVorgna & Bell
Black Velvet - Details & Painted Eyes
Oriental Blush - Wash
Very Dark Brown-Hoof's, Horns, Nostrils Detail & Antique
Rosy Cheeks - Nose, Mouth, & Blushing Ears & Knees
Yellow Brown for Painted Eyes
Above is warmer accent
.
For Whiter Chivo
I used White Vellum over every piece - Fire 018
Next: Antique with White mixed with Blue Grey Fire 018
Next Step Repeat Everything else above.
**Customer Spotlight
by Doll Artist Linda Plaskett
Click Number Below :
Amazing Pictures of Linda Plaskett's Chivo
#1 Full View
#2 Close Up View
#3 Close Up View


**Customer Spotlight
Chivo & Jade "Old Man" Photo's taken by
Doll Artist Carolyn Fulton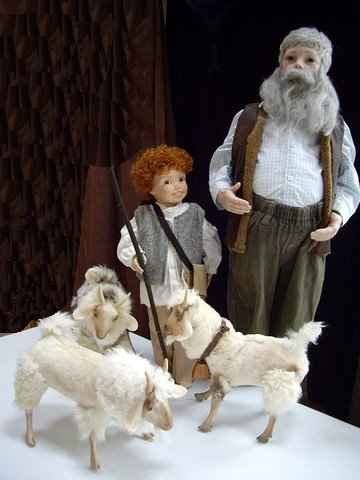 Click on Pictures for more Close Up's of Small Chivo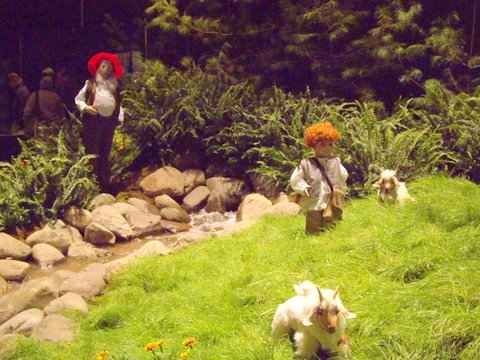 (INFORMATION & INSTRUCTIONS SUPPLIED ABOVE WAS TAKEN
DIRECTLY FROM CHIVO'S FLYER OR PATTERN)
.
** Please keep in mind that these pictures are from other doll artists;
they are not my own creation**
.

.
.
Chivo the Goat shown with Raven
by Donna RuBert
Mold Description
140 24" Chivo Complete Mold Set
.
135A 24" Raven Head
117B 28" Whitney Shoulder Plate
132C 24" Mandy Arms
24-B-LEG 24" Toddler Bent Legs
TJ5007 24" Chivo Body pattern 10.95
Fur use a wool rug found at Pier 1
Wig 14-15 Black Slumber M104 by Monique
PE18H 18 mm Hazel Acrylic
Eyelashes: Demi Wispies Black

.

CHIVO GLASS EYES G. Schoepfer
Glass Chivo Goat Eyes
•These are glass goat eyes for Doll Artworks large "Chivo".
•He takes an 18mm eye, with no white showing.
•The eyes are half round, and hollow backed.
•Color is dark amber
$20.00 for each pair