Daisy Garland
Sculpted By Team of
Bunny Morris & C. Paul Jackson
Former: Seeley's Molds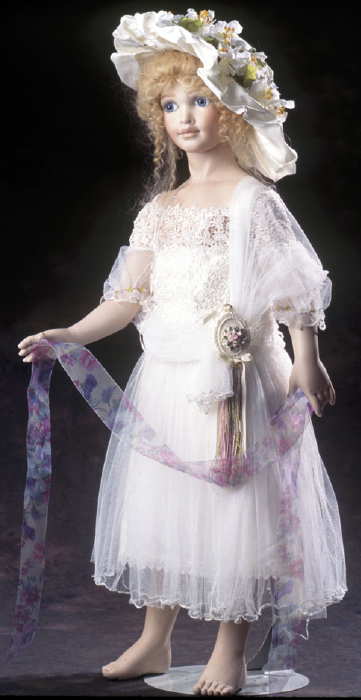 Available:
Teen/Lady Series
.
30" Daisy Garland Head (12 1/2" circ.)
Breast Plate
Arms
Straight Legs
.
Soft Fired $ 50.00
Bisque 110.00
.
Return Links:
Alphabetical Link
Series Link
.
Wig Size: 13/14 in.
(12 1/2" circ.)
Eye Size: 22 mm
.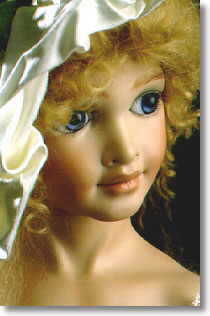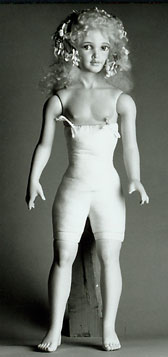 Daisy has an All Porcelain upper torso for strapless clothes.
She is a tall, lovely lady and pictured above with open eyes,
porcelain shoulder plate,
arms and legs in a soft body.
..
(Body pattern supplied only with complete doll purchase of SFGW or Bisque)

.
Patterns available from: www.sandsfiredarts.com
Worksheet for Modern Dolls WSMD24
Patterns: P502 Body
P005 Dress
.
Reference: DollPro June/July 1995.


Available in Porcelain SFGW (Soft Fired Greenware),
Bisque Blank (Unpainted Bisque), or
China Painted Porcelain Bisque (Painted Bisque)

(Seperate) Parts Price :
Head: $20/$40/$70
Chest Plate: $17/$34/$45
Arms (Pair only): $15/$30/$45
Legs (Pair Only): $18/$36/$50
(Plus: S&H&I)