Old World Father Christmas
Jean & Ken Nordquist
Collectible Doll Company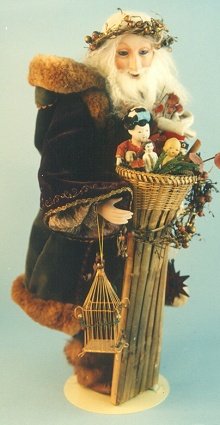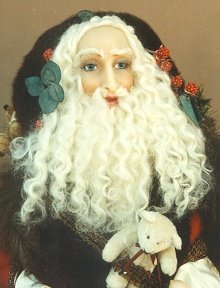 Available:
Victorian Father Christmas - 21"High
Father Christmas Head (Flange Neck)
Hands
Barefeet - Straight Legs
.
21" Size
Soft Fired $30.00
Bisque 60.00
.
Return Links:
Alphabetical Link
Series Link
Eye Size 10mm
He wears braided mohair glued directly.
..
Old World Father Christmas ~ Victorian Father Christmas
is an adaptation of a French bisque mechanical by Lambert created in the late 1800's.
He makes a wonderful lute player as he was originally portrayed.

Old World Father Christmas
21" Victorian Father Christmas
Patterns, mohair, & eyes are available from:
www.jeannordquistdolls
.
Mold No. 232A - $160 complete (S/H $20.00)
(includes molds for head, No. 138 shoulder plate, no.
232 hands and barefeet plus cloth body and
Father Christmas clothes pattern plus color photo guide.)