Hanna
Sculpted By Michele Severino
Seeley's Mold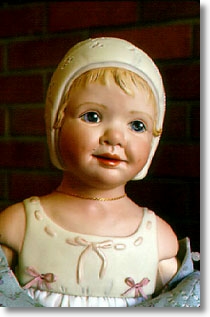 Available:
Toddler/Child Series
.
19" Hanna Head (Circ. 11 1/2")
Hanna shoulder-head
A9855 Arm mold.
L9855 Leg mold
.
Soft Fired: $32.00
Bisque: 70.00
.
(NOT AVAILABLE IN PAINTED BISQUE)
.
(Note: Shoulderhead best in White Slip if know how to apply wash to skin
or Light Flesh Slip if don't know how to apply wash to skin.)

.Interchangeable Parts:
.
TBD
.
Return Links:
Alphabetical Link
Series Link
.
Head Size: 11 1/2 inches
Eye Size: 16-18 mm
.



S855
Hanna:Sweet little girl with molded hair and bonnet sculpted by Michele Severino.
Very unique shoulder-head doll has the top of her slip sculpted onto her chest plate with molded ribbon and bow.
Open-closed mouth, glass or painted eyes. One leg is bent at knee.
One arm can hold flowers, while the other holds her dress as she dances her way merrily into your heart.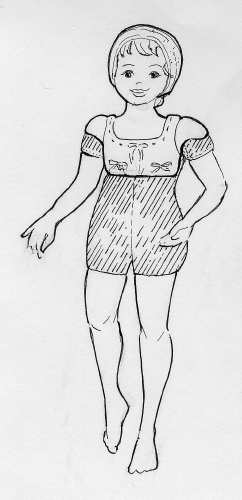 .
Available in Porcelain SFGW (Soft Fired Greenware),
Bisque Blank (Unpainted Bisque), or
China Painted Porcelain Bisque (Painted Bisque)