Jasmine II
Sculpted by Thelma Dufton
Seeley's Mold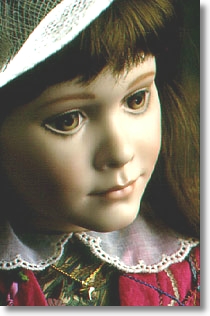 Available:
Toddler/Child Series
26" Jasmine II Head
Shoulderplate
June Arms
June Legs
.
Soft Fired $30.00
Bisque 60.00.
.
Jasmine II Great as Boy or Girl
Return Links:
Alphabetical Link
Series Link
Eye Size: 18mm
Wig Size: 12/13 inches
.
.
Jasmine II Head Mold
Item Number: S828
Sculpted by Thelma Dufton, can be a boy or a girl. Fits compo. body MB190S or body mold OED3071. For a young lady use lady-type compo. body LB195S or body mold OED3075. References: Worksheet for Modern Dolls WSMD8; Doll Artisan Vol. 18, No. 5.Head circ. 12" (30cm), Eyes 18mm, Doll size 26" (66cm)
S828 Jasmine II head mold. Wt. 15lbs.
Also available separately:
A9980N Arm mold (optional porcelain modern arms for MB190S). Wt. 9lbs.
A9198 Arm mold (opt. porcelain bru arms for MB190S). Wt. 9lbs.
MB190S 19" modern composition body.
LB195S 19.5" lady composition body.
OED3071 17.5" body mold.
OED3075 18" lady body mold.
WSMD8 Jasmine Worksheet
Pattern: DP1012 Dress with bustle (for OED3075)
Price shown for head mold only.
Doll shown by Thu Tam Freeman.
YOUR PRICE: $102.00 $61.20