Jenny Lind
Made By Lippert & Haas, Bohemia
Seeley's Mold


Available:
Lady China & Parian Series
Antique Reproduction Series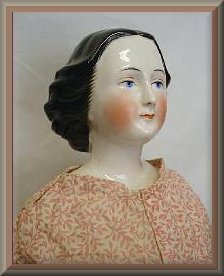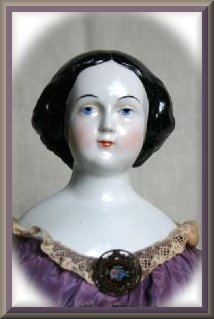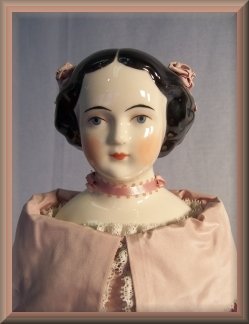 18" Jenny Lind Shoulder-Head
Arms Mold (A9610)
Legs mold High-Heel Boot (L9609)
.
Soft Fired $27.00
Bisque $60.00
.
Return Links:
Alphabetical Link
Series Link
Antique Reproduction
.
Painted Hair Molded Bun Hairstyle
Eye Size: Painted Eyes or 12 mm
Note: We do not accept orders for Rare reproduction dolls that
require special china Painting techniques
to be true to antique authenticity.
.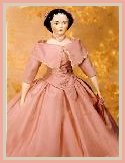 .
Information:
Chinas & Parians are shoulder-head dolls with molded hair and
sometimes molded decorations such as collars, jewels, combs and ribbons,
China dolls are glazed, parian dolls are unglazed.
They were mode in Germany during the 2nd half of the 1800's.
.
Jenny Lind China head lady, 18" tall, with deeply sloping shoulders,
deeply molded bun hairstyle, gorgeous modeling and sharpness, sweet expression.
China or Parian with hair parted in middle and drawn into a chigon in the back.
Painted eyes, or Eyes 12mm, Doll size 18" (46cm)


History (1820–87):
The Swedish soprano Jenny Lind was admired equally for her skilled coloratura
(singing ornately embellished music) in opra and oratorio and her appealing style in simple songs.
Johanna Maria Lind was born in Stockholm on Oct. 6, 1820, and later studied at the Court Theater School there.
She made her operatic debut in 1838 in Carl Maria von Weber's Der Freischütz (The Freeshooter).
.
(Copy of Body Pattern BP41 Cloth Body w/ corset available with doll purchase only)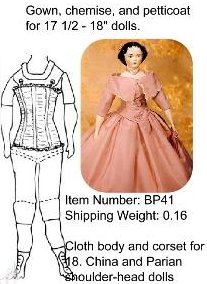 .
This Porcelain Doll is:
Available in
Porcelain SFGW (Soft Fired Greenware),
or Bisque Blank (Unpainted Bisque).
.
Doll not available in:
Painted Bisque as Antique Reproduction.

.
Revised 8-12-15
.


Arms & Legs see Deborah
Patterns See: Diedra
BP41 Cloth Body w/ corset or
LB1 Cloth Body w/ seat
MP16 Gown, Chemise, petticoat, Pantalets for BP 41
L13118 Bridal outfit for LB1
Antique value aprox. $2,995
Circa: 1860
Height: 18 Inches
Manufacturer: Alt, Beck & Gottschalck