Karlchen
by German Doll Artist
Inge Tenbusch & Hofheimer-Kinder
Alberta Mold Company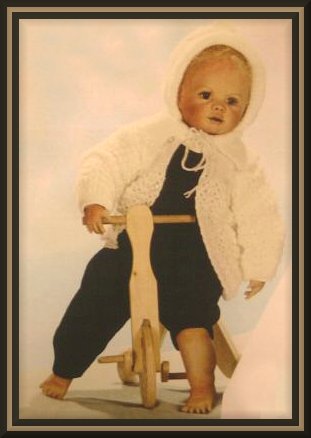 Available:
Baby/Child Series
.
22" Karlchen Head
(Flange Neck)
Arms
Legs
.
Soft Fired $27.00
Bisque 55.00
.
Interchangeable Parts:
24" ARMS
24" LEGS
.
Return Links:
Alphabetical Link
Series Link
Wig Size: 12/13 inches
Eye Size: 18-20 mm
.
"Karlchen" by reknowned German Doll Artist Inge Tenbusch and Hofheimer-Kinder and Alberta's Mold Co., copyright 1997.
Inge Tenbusch's dolls are models of children in her home town of Holfheim, Germany, thus the name Holfheim's Children (Hofheimer-Kinder).
Molds are no longer available, and Inge is now producing vinyl dolls only.
Karlchen finishes out to about 22", on a cloth body.
He takes approx 18/20mm eyes, and has a head c. of approx 12".
Head is marked: Hofheimer Karlchen I. Tenbusch.
HK-20 Karlchen Head & legs 22" Cloth Body Pattern.