"Little Bo Peep"
or "Little Polly Finders"
The Nursery Collection
Sculpted by Kay McKee
Klowns by Kay Molds


Available:
Baby/Child Series
..
"Little Bo Peep" or
"Little Polly Finders" Shoulderhead
Nursery Arms
Barefoot Nursery Legs
.
9" High when Seated
14 1/2 High if Standing
.
Soft Fired $22.00
Bisque 45.00
.
Return Links:
Alphabetical Link
Series Link
Wig Size: 9/10 inches
Eye Size: 14 mm
Also makes: "Little Polly Finders"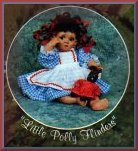 Nursery Rhymes
LITTLE POLLY FLINDERS
Little Polly Flinders
Sat among the cinders
Warming her pretty little toes;
Her mother came and caught her,
Whipped her little daughter
For spoiling her nice new clothes.
.
LITTLE BO-PEEP
Little Bo-Peep has lost her sheep,
And can't tell where to find them;
Leave them alone, and they'll come home,
And bring their tails behind them.
Little Bo-Peep fell fast asleep,
And dreamt she heard them bleating;
But when she awoke, she found it a joke,
For still they all were fleeting.
Then up she took her little crook,
Determined for to find them;
She, found them indeed, but it made her heart bleed,
For they'd left all their tails behind 'em!
It happened one day, as Bo-peep did stray
Unto a meadow hard by--
There she espied their tails, side by side,
All hung on a tree to dry.
She heaved a sigh and wiped her eye,
And over the hillocks she raced;
And tried what she could, as a shepherdess should,
That each tail should be properly placed.
.
.
Available in Porcelain SFGW (Soft Fired Greenware),
Bisque Blank (Unpainted Bisque), or
China Painted Porcelain Bisque (Painted Bisque)
.


* Patterns & Information are available from:
Owner of Klowns by Kay Molds
Charlotte Casperson
www.childhoodfantasies.com