Lorilei
Made by the Kley & Hahn Doll Factory
in Ohrdruf, Germany
Seeley Mold was given at Doll Artisan Guild (3rd)
at their 1985 Convention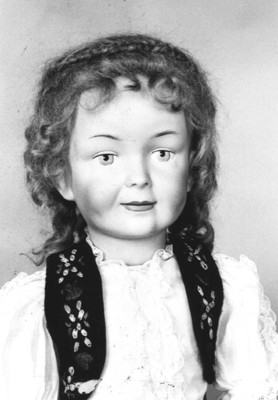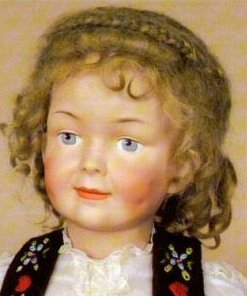 Available:
Child/Teen Series
19" Lorilei Head
S/P
Arms
Legs
19" Lorilei
Doll size: 16.5" (41.9cm)
Soft Fired: $25.00
Bisque: $55.00
.TBD
Interchangeable Parts:
.
Return Links:
Alphabetical Link
Series Link
.
Wig Size: 10/11 in Head circ. 9.75"
Eye Size: Painted eyes. or 14 mm
.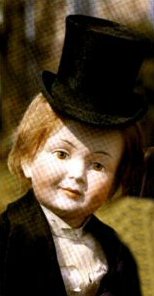 Lorilei can be done as a Modern or Antique Doll
.
This mold was given by the Doll Artisan Guild at their 1985 Convention,
Seeley only made 1500 molds .
.
Body: GB15 composition available from Seeley
.From Seeley/New York Doll Products
Body: GB13S composition body
WSGD30 Dollmaker's Worksheet
CP4004 Regional Costume: Drawers Slip Blouse Skirt Vest Scarf, Apron & hat.
Some History of Dimpled Lorilei
.
Marked 520 S. Made by the Kley & Hahn doll factory in Ohrdruf, Germany
This is one of the most sought after dolls in their #500 series by collectors.
Made after 1910, she has a gentle smile and dimples.
Children were used as the real models in sculpting this doll series,
the dolls all have a very real, lifelike expression.
.
The decoration of Lorilei is attractively and carefully done
with distinctive accenting of the lips,
individually stroked eyebrows, and exquisitely painted eyes.
The sculpting is delightful with dimples in the slightly smiling face.
.

This Porcelain Doll is:
Available in Porcelain SFGW (Soft Fired Greenware),
Bisque Blank (Unpainted Bisque), or
China Painted Porcelain Bisque (Painted Bisque)
.