Tudi Lynn
by Mavis Snyder

.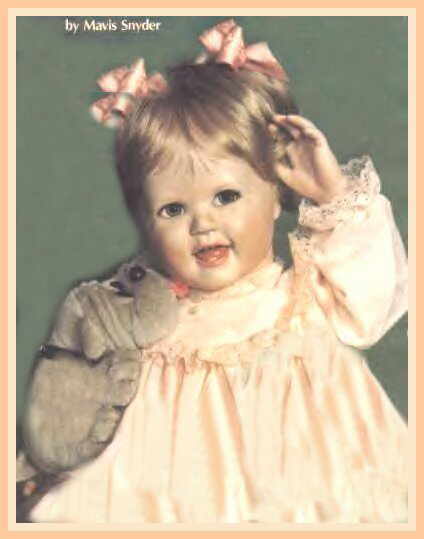 Available:
Baby/Child Series
.
22" Tudi Lynn
Head
Tudi Lynn Arms
Tudi Lynn Legs
.
Soft Fired $30.00
Bisque 60.00
.
Interchangeable Parts:
.
She uses Her own parts
Return Links:
Alphabetical Link
Series Link
Wig Size: 12/13 inches
Eye Size: 18-20 mm
.

Tudi Lynn by Mavis Snyder, copyright 1991.
Tudi Lynn is Mavis's first original doll sculpture,
representing her own daughter when she was almost one year old.
Tudi Lynn finishes out to about 22" on a weighted, poseable cloth body.
She takes 20mm eyes, and has a head c. of 12 1/2".
Molds consist of the tie-on head, 3/4 length above the knee slightly bent legs,
and 1/2 length below the elbow arms.
She is made to sit.
.
Available in Porcelain SFGW (Soft Fired Greenware),
Bisque Blank (Unpainted Bisque), or
China Painted Porcelain Bisque (Painted Bisque)
all with or without a Kit