Huck
"Huckleberry Finn"
by Donna RuBert
Doll Artworks Mold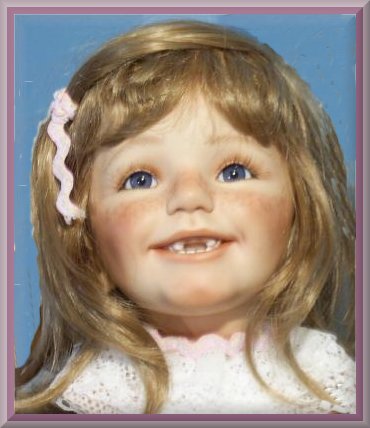 Huck as a Boy Painted By Donna RuBert and Huck as a Girl painted by Jennell Poindexter
**FYI: NO BOTTOM TEETH ARE IN THE MOLD
Available in Two Sizes:
Great as Boy or Girl
.
Older Child/Tom Sawyer Series
.
Huck "Huckleberry Finn" Head
Whitney S/P
Whitney Arms
Straight Legs
.
20" Huck
Soft Fired 24.00
Bisque 55.00
.
28" Huck
Soft Fired $33.00
Bisque 75.00
.
Interchangeable Parts:
ARMS
LEGS
.
Return Links:
Alphabetical Link
Series Link
.
For 28" Size:
Wig Size: 16/17 inches
Eye Size: 22 mm
.
For 20" Size:
Wig Size: 12/13 inches
Eye Size: 16 mm
.
No instruction given for teeth except use White Velvet Matte China Paint.
**Lower teeth are NOT sculpted in the mold and would
have to be sculpted by customer in SFGW order.
Lower teeth Not available on bisque orders.
Body Pattern available only with complete doll purchase
.
..
Spotlight of "Becky, Tom, & Huck"
By Doll Artist: Carolyn Wentling
Painted by & Picture of Doll
Show with permission from Artist
.
Spotlight Interpertation of Huck
By Doll: Artist Mary Carter
.Painted by & Picture of Doll
Show with permission from Artist
.
Also: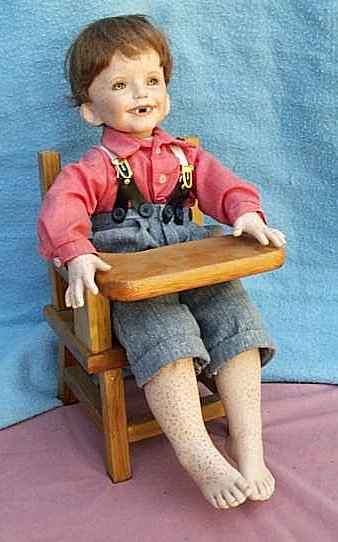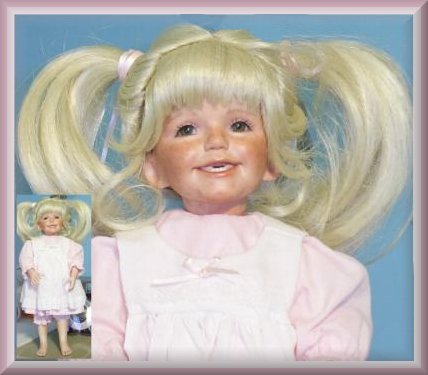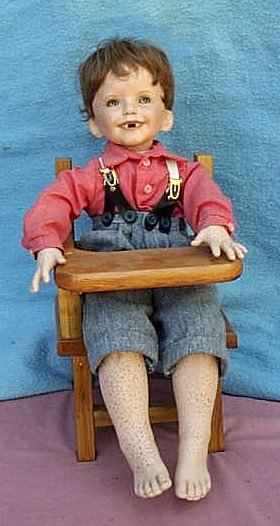 Huck as a Girl
Picture & painted
by Doll Artist: Jennell Poindexter
.
Huck as a Boy
Picture & Painting by
Doll Artist: Jerry Forbus
All shown with permission by Artists
.
**FYI: NO BOTTOM TEETH ARE IN THE MOLD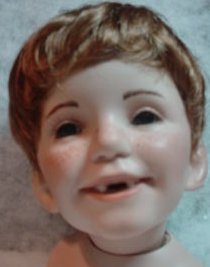 .
Special Artist (RuBert) Instructions:
Painting technique for Freckles - requires numerous firings.
Dot Rose Mirage lightly in areas where freckles are wanted.
With Stipler, soften edges of freckles. Fire to 018.
Repeat. Fire to 018.
Dot freckles with eyebrow mixture with a little Very Dark Brown added.
Fire to 018. Blush as usual.
This technique gives the freckles a very real look.
.
No instruction given for teeth except use White Velvet Matte China Paint.
**Lower teeth are NOT sculpted in the mold and would
have to be sculpted by customer in SFGW order.
Lower teeth Not available on bisque orders.
.
This Porcelain Doll is:
Available in Porcelain SFGW (Soft Fired Greenware),
Bisque Blank (Unpainted Bisque), or
China Painted Porcelain Bisque (Painted Bisque)
.
Revised 2-27-13