My Little Princess
by Joyce Wolfe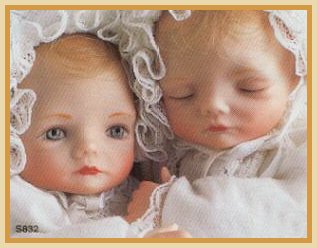 Infant/Baby Series
Available:
7" My Princess Head S832
My Princess Arms A9832
.
Soft Fired $12.00
Bisque 24.00
.
Return Links:
Alphabetical Link
Series Link


Two precious babies in one mold, one with open eyes, one with closed eyes.
Beautiful twins to make as a pair.
Head circ. 4 3/4" (12cm),
Doll size 7" (18cm)
Pattern: BCP20 Body and costume

Reference: Doll Artisan Vol. 15, No. 2.

S832 My Little Princesses head mold
A9832 Arm mold

.
Available in Porcelain SFGW (Soft Fired Greenware),
Bisque Blank (Unpainted Bisque), or
China Painted Porcelain Bisque (Painted Bisque)