Alex
Sculpted by:
Philippe and Charisse Faraut
PCF Studios Mold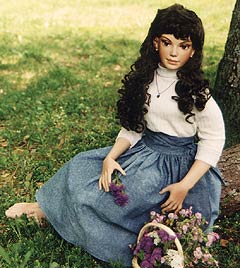 Available:
Fashion Lady Doll
.
30" Alex Head
Shoulder plate
Arms
Waist
Legs
.
Soft Fired $45.00
Bisque 90.00
.(As Sitting Doll - with waist parts)
.
.
30" Alex Head
Shoulder plate
Alex Arms
Alex Legs
.
Soft Fired $38.00
Bisque 80.00
(As Standing Doll - without waist parts)
.
Alex & Kia use the same body parts
Legs can be posed either standing or sitting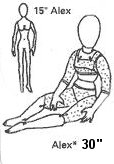 .
Return Links:
Alphabetical Link
Series Link
.
WigSize: 10-11"
Eyes: 16 mm
.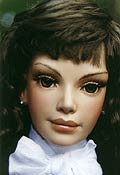 30" Alex
Porcelain Doll Mold
To make her more elegant, she is designed with a 2 part porcelain, swivel waist.
The pieces fit together like a large ball and socket,
which allow her to take more graceful postures like the one shown.
Her delicate hands are sculpted to just below her elbow.
A young woman designed to be displayed barefoot to show her carefully sculpted feet.
Shoes: Intended to be barefoot or handmade
She is shown in a Light Brown "Paula" 10-11" Wig by Mini World
Outfit Pattern: Shown in basic skirt and top (no pattern)
..
Body pattern, and technique sheet included w/doll purchase only.
Also See: Kia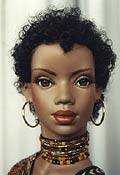 Alex head works really well on Little Rebís breastplate if you want a little older look for her.
She can use Little Reb body then, and still use her own hands, or also Ali Hansenís 29 inch arms and legs.
Judy Moore did the costuming for a lot of Rebís dolls, and
always used the long #1 Ali Hansen arms instead of the half arms of Rebís.
Alex has such a pretty face, but absolutely no bust on her original body.
.
This Porcelain Doll is:
Available in Porcelain SFGW (Soft Fired Greenware),
Bisque Blank (Unpainted Bisque), or
China Painted Porcelain Bisque (Painted Bisque)
.


Body pattern, tech sheet and painting photo included with mold purchase.
Wig: 10-11" Light Brown "Paula" By Mini World
Eyes: 16mm Chuck Hazel By Masterpiece
Outfit Pattern: Shown in basic skirt and top (no pattern)
Molds: Price: S/H:
Complete $250.00 $35.00
Head $110.00 $12.00