Bryce
Sculpted by:
Philippe and Charisse Faraut
PCF Studios Mold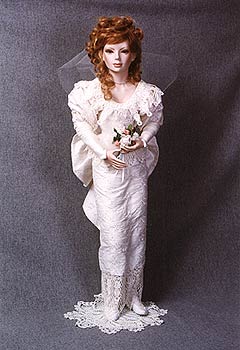 Available:
Fashion Lady Doll
.

30" Bryce Shoulderhead
Alex Arms
Alex Legs
.
Soft Fired $38.00
Bisque 80.00
(As Standing Doll without waist parts)
.

30" Bryce Head
Shoulder plate
Arms
Waist
Legs
Soft Fired $45.00
Bisque $90.00
(As Sitting Doll with waist parts)
.30" Bryce with all above and
Waist porcelain pieces
.

Alex & Kia use the same body parts
Legs can be posed either standing or sitting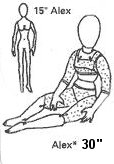 .
Return Links:
Alphabetical Link
Series Link
.
WigSize: 10-11"
Eyes: 16 mm
.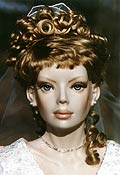 .
30" Bryce is sculpted as a shoulder head (her head, neck and top of her bust are all one piece).
This special design allows her to wear low cut gowns and show off the detailed sculpting of her neck.
Body pattern, and technique sheet included w/doll purchase only.
.
To make her more elegant, she can use with 30" Alex's 2 part porcelain, swivel waist.
The pieces fit together like a large ball and socket,
which allow her to take more graceful postures.
Though she can use all of Alex's pieces,
her soft body was redesigned so that she can be displayed standing.
.
Her delicate hands are sculpted to just below her elbow.
Wig: 10-11" Light Ginger "Jullien"(restyled) By Monique
Eyes: 16mm Water Sapphire By Masterpiece
Outfit Pattern: Modified BHD #1092
Shoes: Handmade
.
Also See: Kia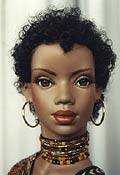 .
This Porcelain Doll is:
Available in Porcelain SFGW (Soft Fired Greenware),
Bisque Blank (Unpainted Bisque), or
China Painted Porcelain Bisque (Painted Bisque)
Body pattern, tech sheet and painting photo included with mold purchase.
Wig: 10-11" Light Brown "Paula" By Mini World
Eyes: 16mm Chuck Hazel By Masterpiece
Outfit Pattern: Shown in bas.ic skirt and top (no pattern)
Molds: Price: Molds:
Complete $250.00
Head $130.00S/H:
Complete $250.00 $35.00
Head $110.00 $12.00