Amber
by Laura Cobabe
Laura Cobabe Originals


\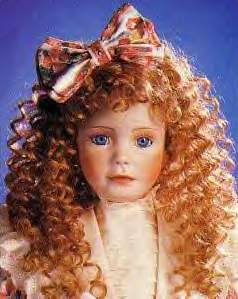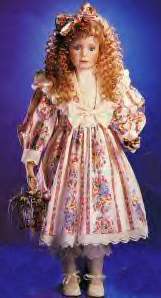 Click Here for More Pictures of Amber
Available:
Teen/Toddler Series
.
29" Amber Head
Amber Shoulderplate
Amber Arms
Amber Straight Legs
.
Soft Fired $33.00
Bisque 75.00
.
Interchangeable Parts:
TBD
Can also use 29 inch Ali Hansen or Little Reb's
arms, legs, and body
(Substitution will cost extra)
.
Return Links:
Alphabetical Link
Series Link-Teen/Lady
Series Link-Toddler/Teen
.
Wig Size: 13/14 inches
Eye Size: 20 mm
.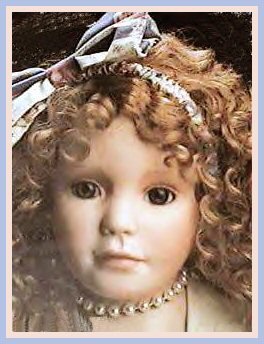 .
Also See:
Amber
Autumn
Estelle
Melissa
This Porcelain Doll is:
Available in Porcelain SFGW (Soft Fired Greenware),
Bisque Blank (Unpainted Bisque), or
China Painted Porcelain Bisque (Painted Bisque


Technique Instruction Sheet:
She uses English hand human eyes not paperweight eyes
That could make a difference - so 20mm eyes are approximate size
.
Apply eyelashes to top of the lid.
.
China Paint Instructions:
Mix equal parts of Old Master Red & First Kiss
Add small amount of brushing medium
Coat entire head with the flesh color & wipe off with a clean cloth
Ready to blush
Use the same color to blush cheeks
Apply with a clean mop until desired color is obtained
Fire to cone 018
Mix Jumeau Brown & Black Velvet, use pen oil and a fine liner brush
Paint on bottom eyelashes and tiny top eyelashed
Fire to cone 018
Mix Deep Auburn, then use pen oil to aply eyebrows,
(She uses pencil dots to make guide lines for the brows; the lines will burn off when fired)
Use Old Master Red & First Kiss mixture for the lips
With a loaded up brush, very thin in color, apply an even coat to the lips
Fire to cone 018
Use Mauve Shadow for the eye shadow
Do any necessary touch up
(She always adds more color to cheek and the center of the mouth)
Paints by Virginia La Vorgna's
.