Dolls Your Way Donated Debbie
As a Live Auction Item for the
2006 Annual Banquet and Fund Raiser of the
Community Chamber of Commerce of East Montgomery County
Held on January 14, 2006
.
Debbie is an Elegantly Hand Crafted Porcelain Fashion Doll
This turn of the Century Fashion Lady Doll is a Great Example of Victorian Elegance
Debbie is a "One of a Kind" Interpretations
She Stands 32" Tall in Gold High Heels
She is Supported on a Wooden Stand Especially Made for Her Tall Slender Body
Her Bodice is made of an Black Vintage Embodied Midnight Lace Fabric
Debbie's Full Figure is Accented by a Hand Beaded Bustier
Her Undergarment Consist of a Bustle, Full Slip, and
Pantaloons with Ecru Lace
Her Overskirt is Composed of an Irresident Velveteen Fabric, and is
Draped Over a Black Taffeta Full Skirt Trimmed in Lace
Her Beautiful Blue Glass Eyes adorn her Delicately China Painted Features
Debbie's Streaked Blonde Full Head of Hair is Upswept under a Fanciful Hat
Her Matching Hat is Composed of Irresident Velveteen with Mounds of Black Tool and Lace
Then Accented by a Gorgeous Turquoise Peacock Feather.
To Complete the Vintage look, Debbie is wearing a Sequin Collar with a
Silver and Jet Bead Drop with Matching Black Jet Earrings.
The Molds used to Cast Debbie was Sculpted by "Little Reb"
Debbie is a True"Portrait of a Victorian Lady"
She Would Adorn Anyone Home or Office or Make any Big or Little Gir Happy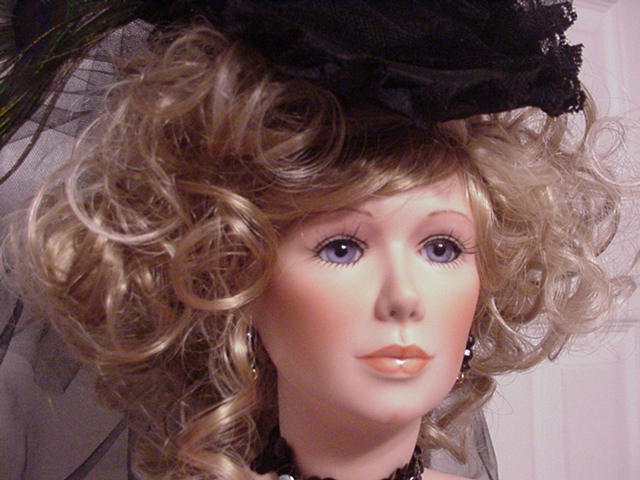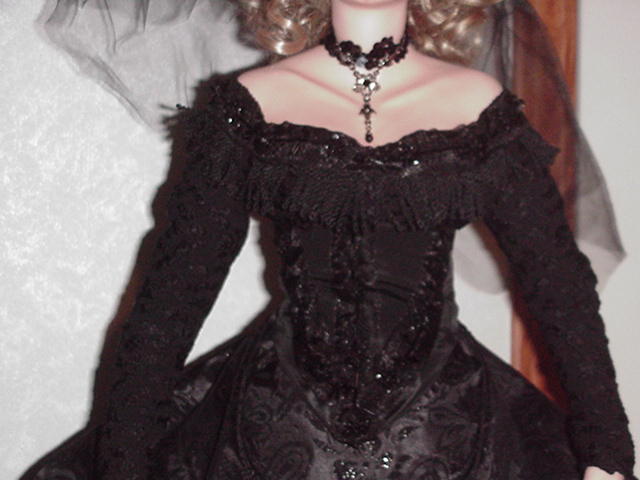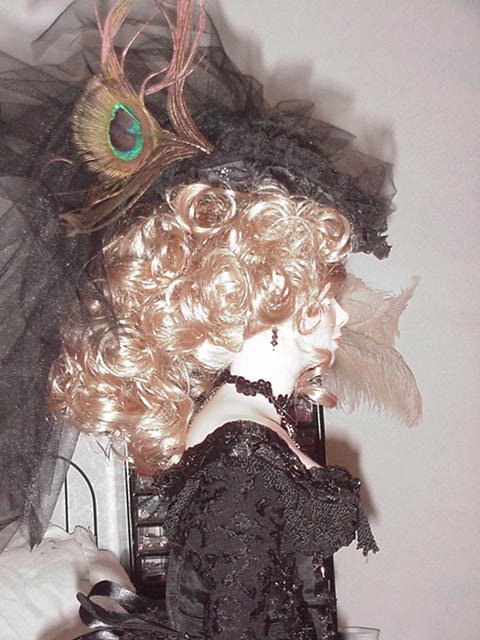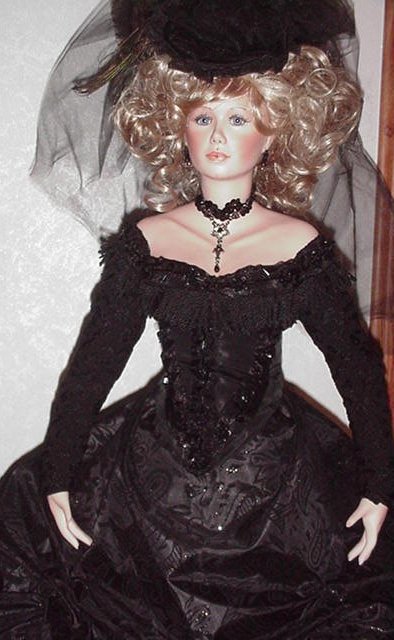 Donation by: Linda W. Floyd ,
Of the East Montgomery County Improvement District Board of Directors
Through HerInternet Business: Dolls Your Way
www.Dollsyourway.com
To Debbie'is avaliable in SFGW or Bisque
Click Here to go to her Individual Page