"Little Boy Blue "
or "Sleeping Baby"
The Nursery Collection
Sculpted by Kay McKee
Klowns by Kay Molds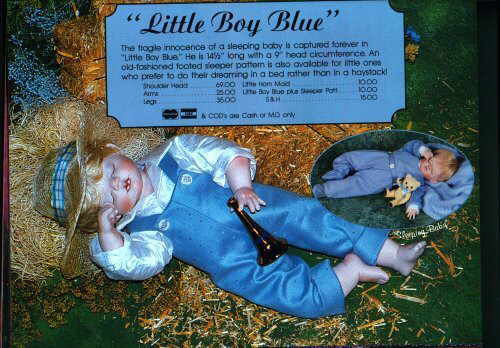 Available:
Baby/Child Series
..
"Little Boy Blue" or
"Sleeping Infant" Shoulderhead
Nursery Arms
Barefoot Nursery Legs
.
14 1/2 Long Lying Down
.
Soft Fired $22.00
Bisque 45.00
.
Return Links:
Alphabetical Link
Series Link
Wig Size: 9/10 inches
Eye Size: Closed
.
Also See:
Little Bo Peep/Little Polly Finders
.
"Sleeping Infant"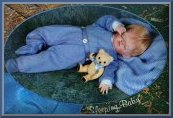 Nursery Rhymes
LITTLE BOY BLUE
Little Boy Blue, come, blow your horn!
The sheep's in the meadow, the cow's in the corn.
Where's the little boy that looks after the sheep?
Under the haystack, fast asleep!
.

Available in Porcelain SFGW (Soft Fired Greenware),
Bisque Blank (Unpainted Bisque), or
China Painted Porcelain Bisque (Painted Bisque)
.


* Patterns & Information are available from:
Owner of Klowns by Kay Molds
Charlotte Casperson
www.childhoodfantasies.com