Maeve
by Kelly RuBert
Doll Artworks Mold



Available:
.
24" Older Child Series
Maeve Head
Up Shoulder Plate
Blythe Short Arms
24" Straight Legs
.
Soft Fired $28.00
Bisque 65.00
.
Interchangeable Parts:
ARMS
LEGS
.
Return Links:
Alphabetical Link
Series Link
.
(Approximate)
Wig Size: 14/15 inches
Eye Size: 18 mm
.
.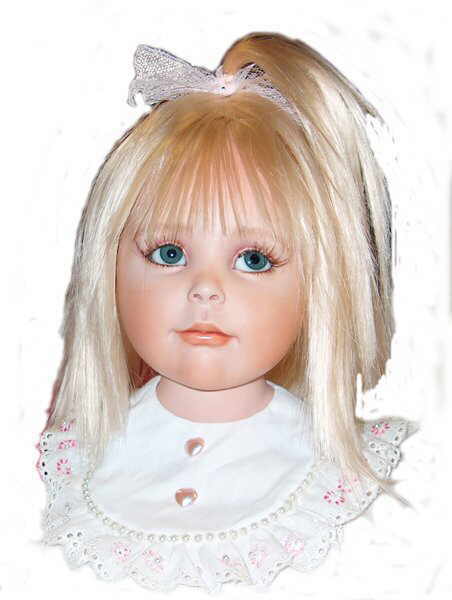 Click here to see: Bonnie, Victoria, & Millie Jo
"All uses the same new 24" Up Shoulder Plate
that goes up into the Neck and the
24" Blythe Arms Long or Short and Bent or Stright Toddler Legs"
Information listed on DAW's Flyer:
(Body Pattern: DA 1124 supplied only with doll purchase)
.
Kelly list her China Paints as Bell's
Misty Pink
Ebony
Berry Cool
Apple Butter
Silk Shadow
German Lips
Russet
Kelly's Special Instructions are:
When antiquing the head, use Misty Pink around the crown of the head and in front of the ears.
Use heavier color under cheek bones and to outline the inside of mouth and around lips.
Line the inside of upper eye lid with the eyelash mixture.
.
Available in Porcelain SFGW (Soft Fired Greenware),
Bisque Blank (Unpainted Bisque), or
China Painted Porcelain Bisque (Painted Bisque)