Pansy
by Mary Van Osdell
Van Osdell Originals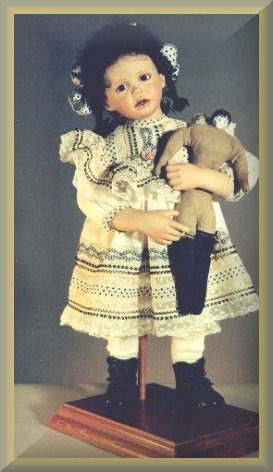 Available:
Older Child Series
.
22" Pansy Head
*Jenny Bird Shoulderplate
*Kirstina Arms
* 22" Straight Legs (DAW).
.
22" Pansy
Soft Fired $30.00 *
Bisque 65.00**
..
*Substituted S/P, Arms & Legs
.
Note: Ethnic Slip Colors are $5*/$10** extra
.
Return Links:
Alphabetical Link
Series Link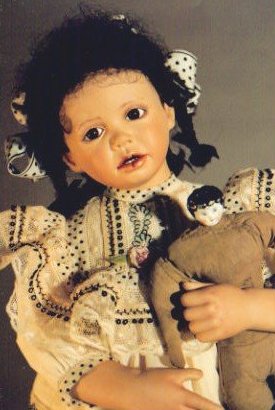 .
We have Other Mary Van Osdell Dolls Available
24" Lucinda
24" Sissy
22" Pansy
26" Jazz
22" Mary Frances
16"Princess
16" Little Lucinda
14" Little Elmo
18" Sweet Pea (Infant)
.
.
Body pattern available only with complete doll purchase
.
.
Note from Van Osdell's flyer:
Pansy, a little Mulatto girl, can be poured in a light ethnic slip and
Washed with a Nut brown paint to give her skin a beautiful bronze tone.
.
This sweet faced little girl 22" tall can be made up in a variety of races.
She is adorable as a little mullato child,
or as a gypsy at the fair,
a Spanish child,
or as a little black girl.
Pansy has a Sweet and innocent face.
.
.
Available in Porcelain SFGW (Soft Fired Greenware),
Bisque Blank (Unpainted Bisque), or
China Painted Porcelain Bisque (Painted Bisque)


Other Van Osdell Dolls I don't have
15" Little Elmo-Etta
16" Shugie
18" Josephine (Infant)
21" Lin Lee
21" Goldilocks
22" Caroline
22" Petunia
23" Elmo-Etta
23" Elmo
23" Leroy (Infant)
23" Josephine (Toddler)
23" Mama's Little Angel
23" Tennie Jeannie
26" Lottie Dah
26" Mabelline