Ashlyn
Artist: Jan Garnett
S&S Fired Arts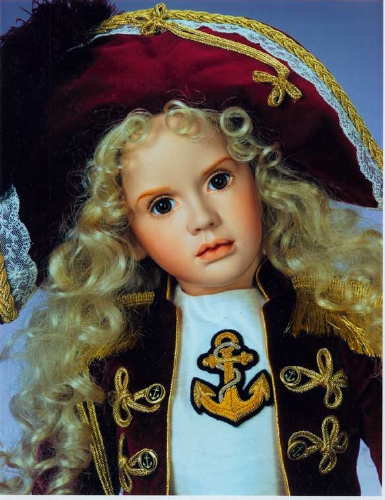 Available in Two Sizes:
Toddler/Teen/Lady Series
.
Ashlyn Head
Garnett Shoulder plate
Garnett Arms
Garnett Straight Legs
.
25" Ashlyn
Soft Fired $30.00
Bisque 60.00
.
33" Ashlyn
Soft Fired $35.00*
Bisque 70.00**
.
Substitution of:
JC100 Large Garnett Chest Plate (33" size only)
* Add $5.00 to 33" SFGW Price
**Add $10.00 to 33" Bisque Price
.
Interchangeable Parts:
.
ARMS
LEGS
.
Return Links:
Alphabetical Link
Series Link-Teen
Series Link-Lady
.
For 25" Size
Eye Size: 18 mm
Wig Size: 12/13 inches

.
For 33" Size
Eye Size: 22 mm
Wig Size: 14/15 inches
.

Also See:
Ashlyn
Asia
Atlanta
Dallas
Denver
Dresden
Kenya
London
Shavon
Shelby
Shena
Sierra

Available in Porcelain SFGW (Soft Fired Greenware),
Bisque Blank (Unpainted Bisque), or
China Painted Porcelain Bisque (Painted Bisque)

.
Information from Seeley's website page
Ashlyn (large) Head Mold $119.00
Item Number: J111
Doll size: 33" (84cm); head circ.: 14" (35.5cm); eyes: 22mm
J111 Ashlyn (large) head mold. Wt. 19lbs.
JALS100 Large Garnett Arms, legs and shoulder plate mold set. Wt. 51lbs.
Molds available separately:
JA100 Large Garnett arms mold. Wt. 11lbs.
JL100 Large Garnett legs mold. Wt. 30lbs.
JS100 Large Garnett shoulder plate mold. Wt. 10lbs.
JC100 Large Garnett chest plate mold. Wt. 22lbs.
(JC100 is an optional chest/breast plate mold that can be used instead of shoulder plate mold (JS100).
Not part of JALS100 set.)
.
Ashlyn (small) Head Mold $99.00
Item Number: J211
P305 Body Pattern
Doll size: 25" (63.5cm); head circ.: 12" (30.5cm); eyes: 18mm
J211 Ashlyn (small) head mold. Wt. 13lbs.
JALS200 Small Garnett arms, legs and shoulder plate mold set. Wt. 25lbs.
=====
Costume Patterns:
P320 Full sleeved dress, half slip and bloomers pattern.
P321 Ruffled high waisted dress, half slip, bloomers, hat pattern.
P322 Dress with underskirt and detachable collar, slip, bloomers, sandals pattern.
P323 African tunic, skirt, hat, scarf, t-shirt, bloomers pattern.
P324 Button trimmed cape, capelet, purse, hat pattern.
P325 Oriental jacket and pants pattern.
P368 Dress, nautical jacket, slip, bloomers, hat pattern.
P369 Holiday party dress, slip, bloomers, shoes pattern.
P370 Puff sleeved dress with embroidery trim, slip, bloomers pattern.
P371 Summertime play dress, pantaloons pattern.