Sugar Britches
Sculpted by Artist Boots Tyner
Boots & Friends ~ Mold by Van Hellen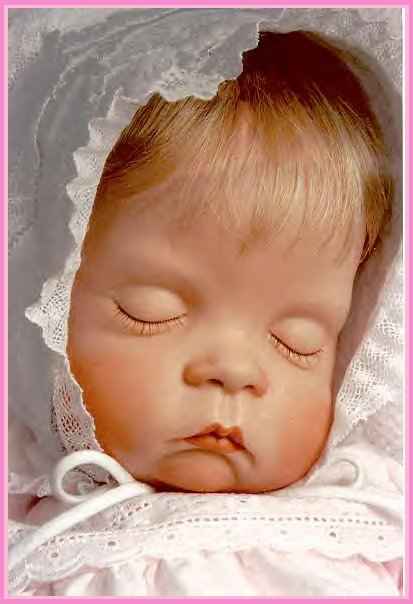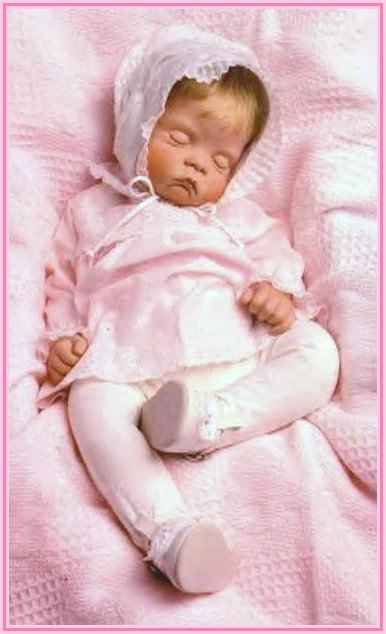 Painted by "Boots Tyner"
Available:
Baby/Infant Series
.
19" Sugars Britches Head
Sugar Britches Fist
.
Soft Fired $25.00
Bisque 55.00
.
Sugar Britches Head w/Legs
Sugar Britches Fist
Sweet Feet or Bent Baby Legs
.
Soft Fired $35.00 -$40.00
Bisque 75.00 - $80,00
.
Interchangeable Parts:
20" ARMS
20" LEGS
.
Return Links:
Alphabetical Link
Series Link
.
Asleep - Eyes not opened
False Eyelashes
Wig Size: 12/13 inches
(Careful some 12/13 wigs can overpower)
(Bell's 11-12" Honey Wig fit great)
.
Cloth body pattern available only with Doll parts purchase
.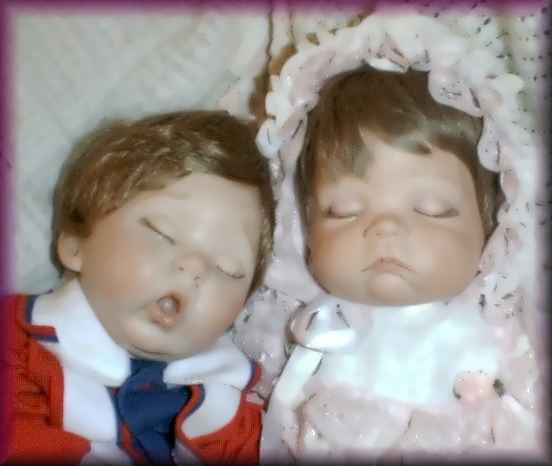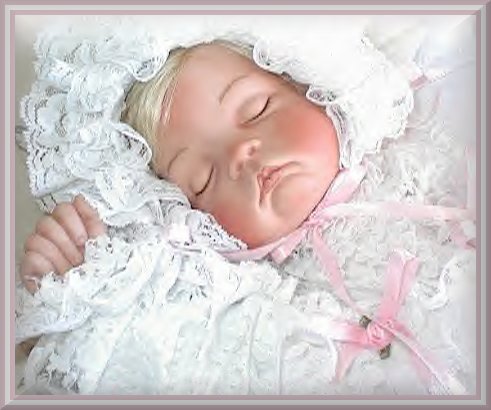 .
Original Instructions by "Boot Tyner" on China Painting " Sugar Britches"
.
Paints: Lt. Pompadour Red, Matt Brown or Hair Brown
China Paint Medium
.
1). Eyebrows: Use Matt Brown or Hair Brown.
Blot Until very light in color.
Keep brows faint and not heavy.
.
2). Lips/Nostrils: Use Lt. Pompadour mixed with medium in a
light colored mixture. Not to dark!
.
3). Cheeks: Blush the cheeks by pouncing with Lt. Pompadour.
Also blush the chin, sides of nostrils, and ears lightly.
.
4). Hands: Outline the nails with Lt. Pompadour.
Blush the palms and backs of hands.
.
China Fire to cone 018
.
Boots Tyner Notes: on instruction sheets:
Do Not paint eyelashes on Sugar Britches...
designed for real eyelashes or none at all.....
.
How to apply Eyelashes
Using a toothpick, apply glue to rim of lashes and run
some glue the length of the groove under the eyelid.
Allow glue to set *about 3 minutes - until tacky.
Next: use toothpick to press lashes up under eyelid.
(Allow to dry 30 minutes.- Trim if necessary)
.
Clothes:
When filled with pellets she will weight approx. 4 1/2 lbs.
She will wear "preemie" baby clothes.
.
For example:
Must choose clothes carefully.Sleepers & gowns with hoods
Little dresses with collars if you tie elastic under the collar
to hold collar close to neck so cloth body fabric doesn't show.
Little Turtle necks are great on boy baby dolls.
Sugar Britches wears a size 11 Bonnet or hat,
and size 00 or 0 shoes
She wears Newborn tights and newborn disposable diapers.
Also See:
Good Morning Sugar Britches
Sugar Britches (Asleep)
.
" Sugar Britches as a Boy "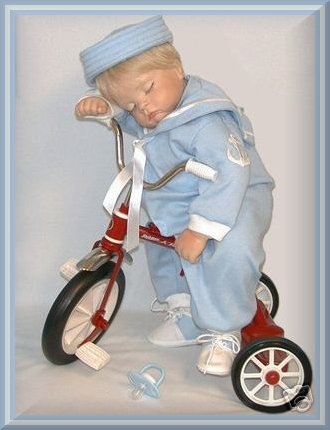 .
Sugar Britches by Boots Tyner started a revolution in the porcelain doll making world.
This lifelike sleeping baby became a must for almost all doll makers to complete.
She is still as popular today as ever.
Its almost a challenge to keep yourself to making just one of these lovely dolls.
Porcelain head and hands.
(Cloth body pattern included with doll purchase)
.
Spotlight
Interpertation of Sugar Britches
by Linda Plaskett
.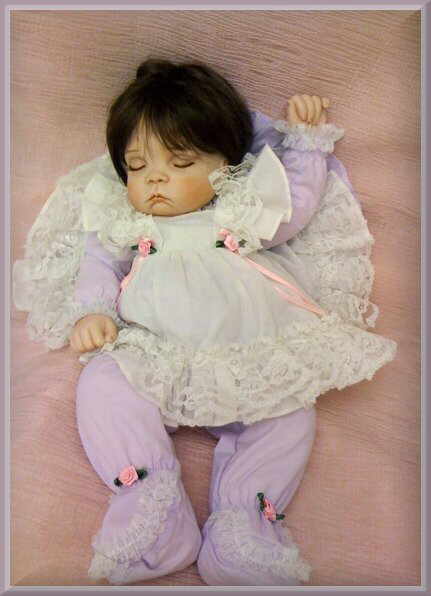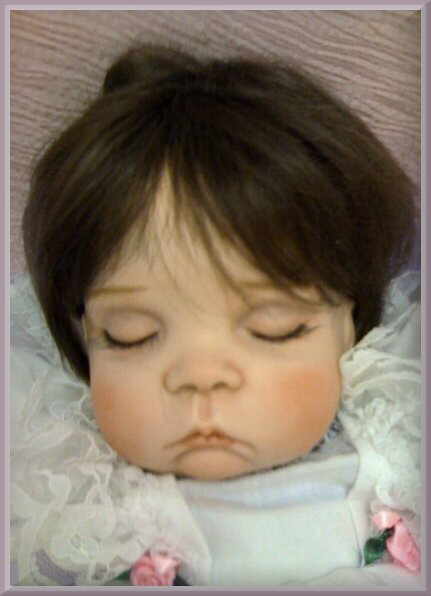 Pictures taken and dolls finished by Linda Plaskett
"Shown with permission from Doll Artist"
.
Available in Porcelain SFGW (Soft Fired Greenware),
Bisque Blank (Unpainted Bisque), or
China Painted Porcelain Bisque (Painted Bisque)